Shades of Somalia's "Black Hawk Down"?
- Copter Shooting Murderers Caught in Iraq
The U.S. military said Saturday it had detained six men suspected of shooting down a Russian-made helicopter carrying 11 civilians - including six Americans - north of Baghdad two days earlier. All 11 passengers and crew were killed, including one shot by insurgents.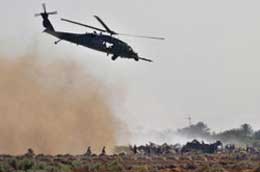 Shades of Somalia's "Black Hawk Down" in Iraq?
In a video, the insurgents are seen capturing and shooting to death in cold blood, the unarmed lone survivor, identified as a Bulgarian pilot. We need to send all these ghoulish murders to Gitmo and use psyops on them as was done by us in the Philippines when we broke the back of Muslim terrorists (after the Spanish-American war in the last century). We had then broken their morale by wrapping them in pig's tallow before executing them, and ensured, in their eyes (the terrorists', not the pigs') that they will not be allowed to enter Jannat (Heaven). There is no other way with such ghoulish murderers. But in the 21st century's GWOT, the Pentagon will take its time to use these unorthodox means, that we used in the last century with deadly effect. After all there was no UN at the time of the Spanish-American war. We need to brush aside the UN and gradually take it to its extinction, as happened with the League of Nations. Can Bolton deliver that?
(Photo credits : China Daily)
_____________________________
An Iraqi civilian helped U.S. soldiers in Task Force Baghdad locate the suspects, who were apprehended at two houses Saturday afternoon, the military said in a statement. The military did not identify the suspects or specify where they were captured.
The Mi-8 helicopter was shot down about 12 miles north of Baghdad on Thursday. Two groups claimed responsibility for the attack and released video to back their claims.
The dead included six American bodyguards for U.S. diplomats, three Bulgarian crew members and two security guards from Fiji, officials said.
In one video, insurgents are seen capturing and shooting to death the lone survivor, identified as a Bulgarian pilot.
The Iraqi civilian told soldiers he knew where a blue pickup truck used in the attack was parked and led them to the site, the military said. When the soldiers reached the area, several other local residents confirmed the initial tip and showed them where the suspects lived, the statement said.
Story Credits: Yahoo News and Little Green Footballs